About GK Cafe & Catering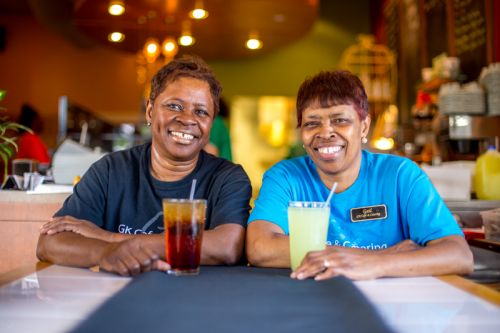 GK Café & Catering is a family-owned business created from the lifelong desire of two sisters to own their own catering business. They come from a family of nine children. Mrs. Gail (Mrs. G, as some call her) and Miss Kaye put their God-given talents, skills and abilities to work by serving in hospitality and community programs through church, working part-time as waitstaff, and duplicating their mother's recipes. Mrs. Gail's cakes are claimed to be life changing. They launched out on faith and take pride in serving home-cooked meals made with love. Their contemporary restaurant and catering service reflect their commitment to exceptional quality and Christian values.
GK Café opened on April 6, 2009, at 3197 East 10th Street in Greenville, North Carolina. The 1,130-square-foot café had a seating capacity of 36, including private tables and six seats at the bar. Carry-out and catering services were also provided. The café opened with three staff members: Debra McLaughlin and the two owners, Kaye Roberts and Gail Roberts Phelps. Shortly after the café's opening, Gail's husband, Dexter, and her two sons, Derek and Darius, joined the team. In December 2011, the café expanded to a total of 3,328 square feet, adding a dining room and conference room that allow for overflow seating, private dinners, events and meetings. Seating capacity is now 75, and there are currently 15 full-time and part-time employees. The latest expansion was done in August 2014 by Equipment Plus Total Facility Solutions, and included a kitchen renovation and updating equipment and appliances.
GK Café is steeped in family history, family closeness and family love, and the staff makes you feel like you are a part of the family. Come enjoy the food, fellowship and atmosphere, or let Gail and Kaye transform your catering event into a memorable experience. GK Café caters events for groups from the hospital, physician offices, ECU and PCC, churches, and various local businesses. Gail and Kaye return that support by donating to charities and other organizations.
Gail is a retired registered nurse who loves cooking, reading inspirational Christian literature, watching TBN and helping others reach their goals. She is a pioneer and thrives on challenges that seem impossible.
Kaye is a retired insurance underwriter who enjoys playing tennis, Chicago stepping, traveling and watching Hallmark movies. Kaye likes fashion and flair, which is evident in the café.
Awards, Recognitions and Mentions
2010: Daily Reflector – "Weak economy doesn't stop entrepreneurs"
2011: M/WBE Excellence Award – presented by Minority and/or Women Business Enterprise, City of Greenville, NC and Greenville Utilities Commission
2012 -2013: Small Business & Technology Development Center Annual Report – Host campus: East Carolina University
2013: African American Music Trails of Eastern NC publication
2013: C.A.R.E. (Community Award Recognizing Excellence) "Restaurant of the Year Award"– presented by The Clemons Law Firm, Greenville, NC
Oct./Nov. 2014: Greenville Times Magazine – "Tasty home-style lasagna entrée"
2014: Entrepreneur of the Year – presented by Job's Chapel Baptist Church, Inc., Swanquarter, NC
2014: C.A.R.E. (Community Award Recognizing Excellence) "Best Restaurant" – presented by The Clemons Law Firm, Greenville, NC
Dec. 2014/Jan. 2015: Greenville Times Magazine – "Goodness from the kitchen: Sisters serve community with Southern style at GK Café"
Our Mission
Our mission is to bring a spirit of joy, peace and comfort to our guests, employees and owners as we show the love of Jesus Christ through service.
Our Core Values
The following are core values that form the foundation of our success:
We believe in providing exemplary customer service. Our goal is to provide the kind of personal touch and attention that our customers tell others about and that will make God smile.
We believe in honesty and trust. We work to build trust with others in our everday transactions. We recognize that honesty and trust form the bond that builds relationships and links us as partners.
We believe in teamwork. We know that great accomplishments are only possible from working together and respecting each other. We start as a team, we play as a team and we win as a team.
We believe in the power of your dreams. We know that dreams expand our minds to greater possibilities. With faith in God, determination, perseverance and hard work, you can turn your dreams into realities. "If thou canst believe, all things are possible to him that believeth." – Mark 9:32